SHAp (Calcined Hydroxyapatite Nanoparticle)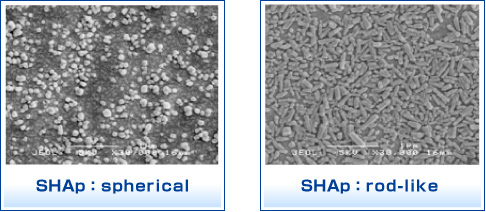 SHAp is a calcined hydroxyapatite nanoparticle developed by our original technology. Hydroxyapatite has following remarkable characteristics.
High Biocompatibility and Hard Tissue Compatibility
High Adsorptive Property for Proteins, Fats and Sugars
Ion-Exchange Property
SHAp can be applied for various fields as a high-quality and safe material.
Average
Grain Diameter
Configuration
Aspect
SHAp(Nanoparticle)
40nm
Spherical shape
Powder
150nm
Rod shape
Powder
※Basically shipped as powder aspect. Please have a contact with us if you prefer other aspects.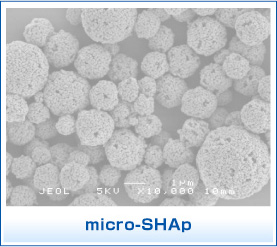 | Name of Product | Average Grain Diameter | Configuration | Aspect |
| --- | --- | --- | --- |
| micro-SHAp | ≦5μm | Spherical Shape | Powder |
Application Field

We can offer other applications of SHAp and the composition to meet your demands.Please feel free to contact us for details.

Copyright © 2009 SofSera Corporation All Rights Reserved.